Alicate Playa

There are many beautiful developments located close to the town of Marbella and the resort of Puerto Banus. However, in most cases you will find that many of these only have 2 or 3 bedroom apartments or townhouses available. But for those who would like to enjoy this part of the Costa del Sol but have more bedrooms then the development known as Alicate Playa is worth considering.
This development is located just 4 km to the east of Marbella and has 2, 3 and 4 bedroom apartments and penthouses within it. As with all developments in this part of Spain much time and money has been spent creating a place that provides you with all the necessary facilities to keep one amused during your holiday stay but also offers you a place where you can relax and unwind.
Throughout the Alicate Playa the apartments and penthouses some of which are duplex ones are to be found in various blocks that rise no more than 5 storey's high. All of them as you would expect from such a prestigious development have been constructed and finished to a very high standard.
Every single unit in Alicate Playa has a fully fitted kitchen that comes with the standard appliances that you would need such as an oven and hob, fridge freezer as well as a dishwasher. Plus every single one has an electric heater that provides a constant supply of hot water when needed. Also every single property within this development is fitted with a system that provides both cool air and heat when needed.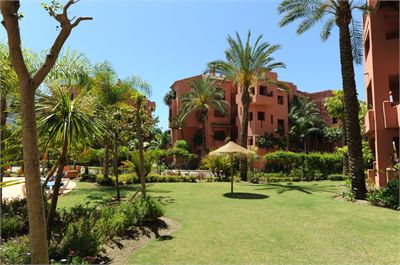 As well as the properties themselves being finished to a high standard no expense has been spared on the gardens surrounding them. The gardens of Alicate Playa have been wonderfully landscaped and contain various tropical plants that help to create a more relaxing atmosphere. Also within the grounds is a swimming pool that has showers beside it that can be used and there are several secluded areas that you and your guests can use for sunbathing.
But of course what will probably have most people choosing to invest in property at Alicate Playa is its location beside some of the best beaches on the Costa del Sol. Not only are there are great selection of wonderful restaurants where are variety of different cuisines are available, but there are several great bars offering snacks as well providing you with an affordable lunchtime snack.
Click the button below to see all our properties in Alicate Playa.
For any further information please contact us by using the contact form below