Aloha Gardens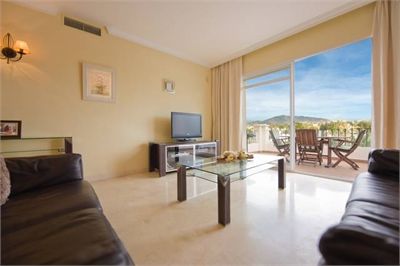 Situated in the heart of Nueva Andalucía's Golf Valley on the Costa del Sol you will find the development of Aloha Gardens. This particular urbanization as the Spanish like to call them is situated next to the Golf Course of Aloha and is also only a short distance from some of the areas other great golf courses. From this particular development you can easily arrange to play a round or two at courses such as Dama de Noche, Las Brisas, Los Naranjos and La Quinta.
To ensure that the properties at Aloha Gardens don't look out of place the developers have chosen only to build them over 2 or 3 levels. In fact the style is reminiscent of the style that is common in many Andalucían villages today. Plus to further ensure that they don't look out of place and help the environment the properties (apartments and penthouses) are set in well planned out and maintained sub tropical gardens.
As Aloha gardens is a gated community it provides 24 hour security throughout the year. So you can be assured that your privacy and safety is uppermost in the developer's minds. Also to ensure that your vehicles are protected there is underground secure parking provided.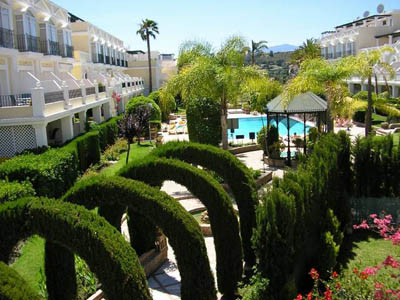 As well as the wonderful sub tropical gardens for you to explore that include a number of wonderful features including a waterfall and fountains there are other amenities within this development you can enjoy. As well as a swimming pool there is another pool specifically for children to use that comes with a waterslide. So if you are visiting Aloha Gardens with your family keeping your children away from this feature may prove quite difficult. Also if you happen to visit later in the year from November to April there is a covered swimming with a Jacuzzi that will be heated.
Also within the grounds is a tennis court as well as 2 paddle tennis courts that those staying in Aloha Gardens can use. Although most people tend to use them during the day, you can if you pay a small fee to use them at night as the floodlights can then be turned on. So although there are plenty of things to do and see close by and across the length of the Costa del Sol, you may find yourself staying here in Aloha Gardens which can offer you all you desire.
Click the button below to see all our properties in Aloha Gardens.
For any further information please contact us by using the contact form below