Cerrado de Elviria

Beds:
3
Type:
Garden Apartment
Baths:
3
Size:
168 m2
Price:
€ 565,000
more information
Looking for a property to purchase on the Costa del Sol within easy reach of all its wonderful attractions? Then now is the time to think about looking at investing in a property at Cerrado de Elviria. This particular development has gained a reputation for offering property that is not only luxurious but the quality and standard of construction and finish is high.
This is a development like no other in that being by the sea it provides you with the sense of feeling that you are not residing in an apartment but a private villa located on some tropical island. Although the apartments here have a beach front position they still offer some spectacular views of not just the Mediterranean Sea but also the mountains behind. Plus from these apartments you can enjoy the beautifully landscaped tropical gardens that surround them. If you choose to wander around these you will find the fantastic swimming pool and tennis courts plus a number of waterfall features as well.
Although you may intend only to use your apartment within Cerrado de Elviria during the summer months it is also perfectly suitable to use when winter arrives. This is because the apartments come with a fully functional and efficient air/heating system installed. Plus you will find that the mountains surrounding it help to create a special micro climate that you won't find in other parts of the Costa del Sol such as Fuengirola or Benalmadena. So you will find that using both the interior and exterior living spaces throughout the year can be achieved.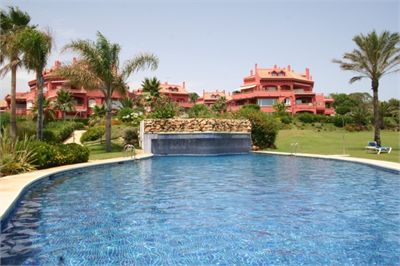 As is common with all luxury apartments and penthouses in the various developments that you find along the Costa del Sol these in Cerrado de Elviria have been finished to an extremely high standard. Not only do the kitchens come with top quality units but also appliances so preparing meals and doing the laundry won't prove difficult. However, as this development is only a short distance from the centre of Elviria itself you will find that there are plenty of good restaurants you can eat at if you don't feel like cooking.
As well as fully equipped kitchens the bathrooms are also finished to a high standard and the bedrooms contained fully fitted wardrobes. Plus each one has marble flooring through except in the kitchens and all have fully functioning and efficient air conditioning systems that allow the rooms to be heated as well.
Click the button below to see all our properties in Cerrado de Elviria.
For any further information please contact us by using the contact form below