El Manantial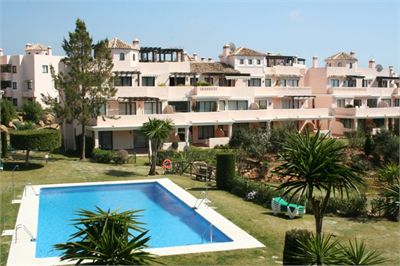 The urbanization of El Manantial, Elviria has proved extremely popular with not only Spaniards but from others across Europe when looking to purchase a holiday home on the Costa del Sol. This is down to the fact that it is ideally situated allowing access to a variety of different amenities and attractions.
The gated development of El Manantial is just a short distance away from the golf course known as Santa Maria and also from the heart of Elviria. Here you will find a good selection of shops, restaurants and bars, plus places to get your hair done or clothes cleaned. Although this particular development doesn't offer you the prime location of being close to Elviria's wonderful beach it can easily be reached either by car or walking. Certainly if you intend to visit the beach on a Sunday afternoon walking to it is recommended as finding a place to park can prove extremely difficult.
The apartments and penthouses the development of El Manantial have been constructed and finished to a high standard in the Andalucía Style. So of course ensuring that the interior of the properties remain relatively cool when the sun its height in the summer months.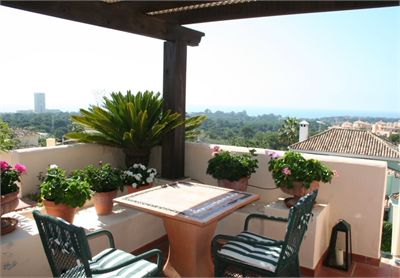 As well as being surrounded by wonderfully landscaped tropical gardens, every property within El Manantial has spectacular views not only of the mountains behind but also the Mediterranean Sea in front. Plus the properties are also south west facing so when the sun is shining which occurs around 320 days each year means that the terraces are bathed in sunshine, where of course you can spend your afternoon's topping up your tan if you wish.
However to further enjoy that your stay in these properties is as enjoyable as possible within its beautiful tropical gardens you will find 4 enclosed swimming pools. All of which have sun beds that you can use as well as showers.
But if you are looking for something a little more exciting to do during your stay in El Manantial, there are a number of superb activities for you to enjoy. Being close to the beach there are plenty of great water sports you can try and also a number of companies will provide tours that allow you to explore more of the countryside surrounding this development either by jeep, quad bike or buggy.
Click the button below to see all our properties in El Manantial.
For any further information please contact us by using the contact form below