Jardines de Aldaba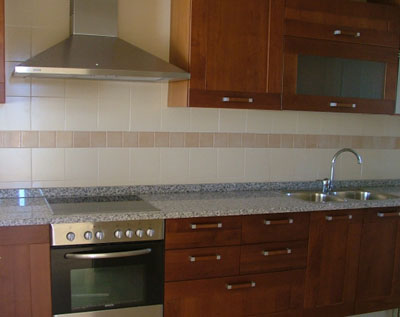 Situated between the town of San Pedro and the resort of Puerto Banus you will find the development known as Jardines de Aldaba. This is one of the smaller developments on this part of the Costa del Sol and consists of just 50 apartments and duplex penthouses built in the Andalucian hillside village style.
Every one of the properties in Jardines de Aldaba is situated allowing you easy access not only to the well-landscaped and maintained sub tropical gardens but other amenities in this exclusive complex. This development along with having a communal swimming pool also has a number of wonderful water features and its very own Chiringuito. Here you will find a selection of wonderful foods to tempt you and all have been made from locally sourced fresh ingredients.
All of the apartments and duplex penthouses within Jardines de Aldaba have been constructed and finished to a high standard. So providing you with a beautiful home away from home and set in some of the most beautiful scenery. The Marbella Mountains provide a stunning backdrop for this development and yet from here it is only a 5-minute walk to the local beaches. Not only can you swim safely here but also there is a wide selection of sports you can enjoy.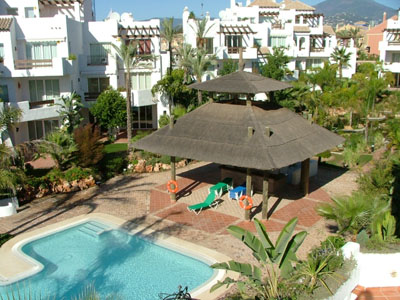 Yet although Jardines de Aldaba is in a prime location it offers its residents a quiet and secure setting. Plus security is paramount in this well fenced and gated community with entry via the main gate which is manned at all times.
Of course you could spend your days just lazing by the pool at Jardines de Aldaba or on the fabulous beaches close by but there are plenty of other wonderful and exciting things to do in the vicinity. From here it is a short drive to the resort of Puerto Banus where there are some stunning exclusive restaurants and bars. Plus further a field by car you can reach the likes of Gibraltar, Sevilla and of course the town of Marbella and Fuengirola. Certainly if you are travelling with children then there are plenty of attractions in the town of Fuengirola for them to enjoy including the water park and zoo. Alos do not miss the Safari Park at Selwo, a great day out for all the family.
Click the button below to see all our properties in Jardines de Aldaba.
For any further information please contact us by using the contact form below