Las Alamandas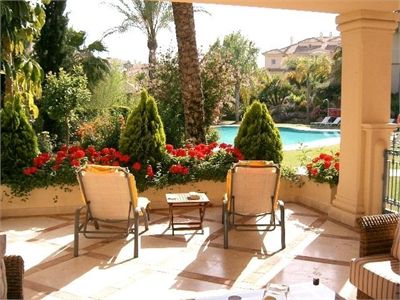 Would you like to rent or own an apartment that is only a short distance from the resort of Puerto Banus or the town of Marbella on Spain's Costa del Sol? If you would then one such development worth considering looking at more closely is that known as Las Alamandas.
This particular development has been given a 5 star rating and contains 2 and 3 bedroom apartments within each block that makes up it. The development is to be found in the very heart of Nueva Andalucia and this is just 2 minutes away from the resort of Puerto Banus which you can easily walk to. But should you need to the cost of getting a taxi back to the development after a night out won't cost too much around 4.80 Euros. As you would expect with its location the construction and finish of these properties is of the highest standard possible and is far above some others located in this part of Spain.
The properties are all situated in 20,000 sq metres of tropical gardens with a number of water features that helps to ensure that peace and tranquillity to its residents is provided. Also within the grounds is a gazebo that should you need to rest a little while after wandering around them is possible.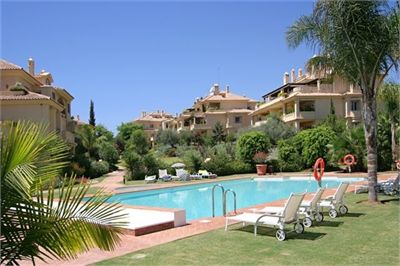 However it isn't just the quality of the accommodation within this development that may you wishing to live here. As a resident of this development you will have access to its superb golf complex that not only has a great course but a number of other facilities for you to enjoy. The other facilities that are included within Las Alamandas include a fully equipped gymnasium, 3 tropical swimming pools, one of which is heated and also a children's pool.
When it comes to the apartments within this development they all have wonderful views of the surrounding area. Some of them have south facing views that look not only over the beautifully landscaped gardens but also the golf course of Las Brisas. Everyone of them is provided with under floor heating in the en-suite bathrooms and the living/dining room area leads you directly out on to a terrace that you can enjoy the scenery from. Plus the kitchens within these are fully fitted with the latest equipment and for those who have a 3 bedroom apartment it also comes with a breakfast terrace and its own separate utility area.
Click the button below to see all our properties in Las Alamandas.
For any further information please contact us by using the contact form below