Andalucía Beach

Situated on Marbella's new Golden Mile between the 5 star Kempinski and Las Dunas hotels you will find a small development comprising a total of 34 apartments that are individually owned. The development is known as Andalucía Beach and the quality of the architecture of these properties is such that many times it has been used by photographers as a background for a number of fashion shoots.
If you don't feel like it the apartments and penthouses in this development of Andalucía Beach are ideally located for some of the best bars, restaurants and nightlife to be found on the Costa del Sol. In many cases you can walk to the vast majority or take a taxi so your car will never have to leave the garage located underneath the properties.
This is yet another development that has been built close to the beach line and is south west facing so throughout the day the terraces and solarium are provided with plenty of sunshine. Plus of course the position is one that offers you some truly stunning views out across the Mediterranean Sea, which of course you can always take a dip in. But if you feel it may be a little chilly then there are 2 very wonderful swimming pools within the development you can use that are surrounded by well landscaped and maintained gardens.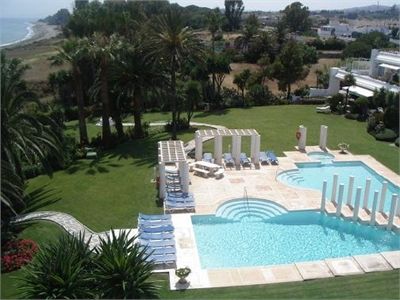 All the apartments and penthouses within Andalucía Beach have been finished and constructed to a very high standard. Although they are much more modern in their design they do not look out of place and seem to blend in with their surroundings. So helping to make a place that offers a large amount of privacy to its residents as well as making it feel very tranquil. Certainly staying in one of these properties will help to ensure that you forget all about your worries and can relax and unwind.
Reaching the properties is very easy as already mentioned Andalucía Beach is located on Marbella's New Golden Mile and both airports in Malaga and Gibraltar are around 45 minutes away by car. Plus you are within easy distance of places such as Marbella as well as Puerto Banus. Plus it is ideally located to allow you easy access to the 60 golf courses that are found in this part of Spain.
Click the button below to see all our properties in Andalucía Beach.
For any further information please contact us by using the contact form below