Cabo Bermejo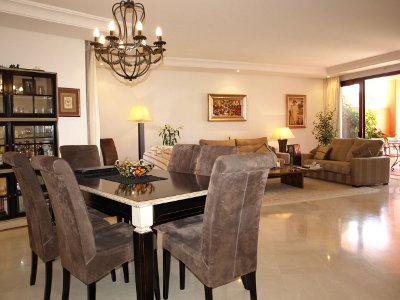 Located in the very middle of the area known as the New Golden Mile on Spain's Costa del Sol you will find a very wonderful development known as Cabo Bermejo. This is a relatively new development that houses some of this part of Spain's most luxurious apartments.
Just like all other developments located around the resorts of Marbella, Puerto Banus and Estepona this one is gated and comes with security provided 24 hours a day including the main gate to the development being manned at all times.
As this development has been designed to provide a luxury lifestyle to those who inhabit the properties then the quality of materials and appliances used in them is extremely high. Every single one of the 2 and 3 bedroom apartments and penthouses within this complex come with a number of luxury items including under floor heating and air conditioning. Also to ensure that the most is made of the views each one comes with its own private terrace.But as well as the apartments and penthouses being constructed and finished to the highest standard so have the surrounding gardens.
The developer of this complex has spared no expense and created a place that provides not only a tranquil atmosphere but offers a high level of privacy to all those who stay in the complex.
The gardens contain a wide variety of tropical plants and to further help create a pleasant atmosphere there are waterfalls which cascade into 2 lakes. These are to be found beside the 2 large swimming pools that residents in the development can use and have sun loungers to help you relax even more. As well as the pools having their own showers they also have their own gyms which are air conditioned, toilets and saunas. Plus should you be visiting Cabo Bermejo at the height of summer and have children with you they complex has arranged for lifeguards to be one duty throughout the day.
However, if you would prefer to spend time on the beach then the other benefit to staying at Cabo Bermejo is that is a fenced and private beach area in front of the apartments that you have use of.
Click the button below to see all our properties in Cabo Bermejo.
For any further information please contact us by using the contact form below