Elviria Hills

Elviria Hills is conveniently situated just a 30 minute drive to Malaga Airport and only a 10 minute drive into the beautiful City Centre of cosmopolitan Marbella. There is also a local bus service which will take you into Marbella to the west and Fuengirola to the east.
Elviria Hills is a very residencial area with many permanent resident homes along with private holiday dwellings and is within close distance to the best beaches on the coast, White Pearl beach being the most famous. Elviria Hills is situated alongside the Greenlife Golf course, where you will find the excellent El Lago restaurant which has a Michelin Star for its excellent cuisine.
Just minutes from Elviria Hills you will also find the home to the famous Santa Maria Golf and Country Club which hold celebrity days throughout the year where you will see many familiar faces. Santa Clara, Rio Real and the Marbella golf courses are also very close by. For tennis lovers, the El Casco Tennis Club is only minutes away offering the very best in quality facilities.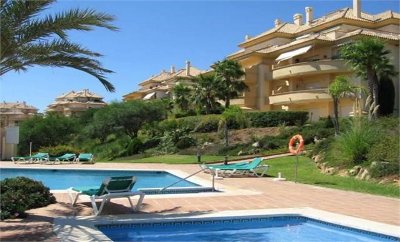 The landmark of Elviria is the luxurious 5 Star Don Carlos Hotel with its beautiful manicured grounds and the exclusive Nikki Beach Country Club directly on the beach. This can be seen from most apartments in the Elviria Hills complex.
The views from Elviria Hills are down the valley overlooking the golf course and down towards the Mediterranean Sea.
For education, The English International College or E.I.C. is situated in Elviria and there is also a German College located in La Mairena in the hills of Elviria. La Mairena has been declared a World Biosphere Reservation by UNESCO with only a 5% build ratio aloud in the area, thus leaving the rest of the land to Mother Nature.
You will also visit some of the coasts finest International cuisine restaurants as well as some top class wine bars in Elviria for that perfect night out. Elviria- an excellent place for your dream home or ideal holiday vacation.
Click the button below to see all our properties in Elviria Hills.
For any further information please contact us by using the contact form below