Guadalmansa Playa

Looking for a place to buy on Spain's Costa del Sol that is situated right on the beach front? Then of course you should be considering the development known as Guadalmansa Playa. This is to be found in the municipality known as Estepona and which is only a short drive from the more well known city of Marbella.
This is quite a small development in relation to some of the others that have been constructed in recent years in this part of Spain. The whole development is made up of 4 residential blocks and in which are to be found 2, 3 and 4 bedroom apartments and penthouses. In fact the total number of properties in this development is no more than 35 so providing you with a real place to get away from the hustle and bustle of your everyday life if you so wish.
Due to their beachfront location these apartments of course have wonderful views out across the Mediterranean Sea. Plus you may find that on a good day you are also offered spectacular views of the North African coastline and of course Gibraltar. In some cases on a really clear evening during the winter and spring months you may find that you can see car lights travelling along the coast roads of North Africa as well.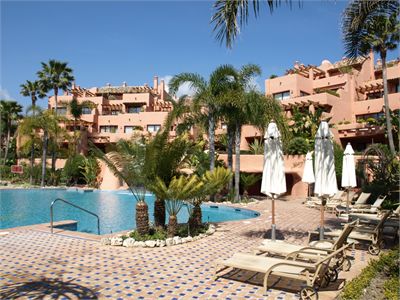 The apartments and penthouses within this development do vary in size but still provide you with ample living accommodation. The smallest of the properties that will comprise 2 bedrooms measure 136 metres square, whereas the much larger penthouses or 4 bedroom apartments will measure 254 metres square. Along with plenty of living space inside they all come with large terraces that are covered, providing you with additional outdoor entertaining space. The sizes again vary some have terraces measuring 35 metres square, whilst others measure as much as 195 metres square.
As you would expect with such a prestigious development every single apartment and penthouse within Guadalmansa Playa has been finished to a very high standard. Every single one has marble flooring laid throughout and also under floor heating. They also have open fire places that can be used to remove the chill from the rooms in the winter months if you so wish. Plus all are fitted with air and heating conditioning systems. The kitchens as well as the bathrooms are fitted to a high standard with good quality appliances including a jet bath in the master bathroom.
Click the button below to see all our properties in Guadalmansa Playa.
For any further information please contact us by using the contact form below