Jardines de las Golondrinas
Situated in a prime beachside location in Elviria that lies around 15 minutes to the east of Marbella you will find the development known as Jardines de las Golondrinas. Just like many of the other developments to be found on the Costa del Sol today this one has been built to resemble a traditional Andalucian village.
But of course unlike the properties you will find in many Andalucian villages these come with all the luxuries one desires. Every single apartment within Jardines de las Golondrinas offers high quality accommodation with fully fitted bathrooms and kitchens. Plus of course all have a good quality hot and cold air conditioning system installed.
If you are looking to invest in property that allows easy access to many of this part of Spain's attractions but offers a sense of privacy, then Jardines de las Golondrinas is a development worth considering investing in. As already mentioned from here you are only around 15 minutes away by car from the beautiful town of Marbella, but also its prime location offers you access to other resorts and towns such as Puerto Banus and Fuengirola. Plus from here it is only around a 35 minute drive to the airport that is located on the outskirts of Malaga.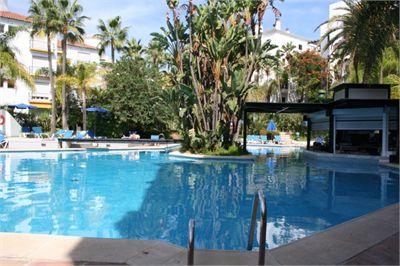 Within the complex itself there are a number of amenities provided including two swimming pools, one of which is heated, a Jacuzzi, tennis court, bar, restaurant and a bar by the pool. So if you really don't feel like doing much more than soaking up a few rays of sun when staying here that is very easy to do.
However if you are looking for something a little more energetic you are perfectly placed when staying at Jardines de las Golondrinas to play a few rounds of golf at one of the many courses that are within distance by car. Also for the children there are some wonderful attractions that they can enjoy and which can easily be reached by car. Certainly no visit to this part of the Costa del Sol would be complete without taking the time out to visit Fuengirola Zoo, Tivoli World or the Safari Park at Selwo.
Click the button below to see all our properties in Jardines de las Golondrinas.
For any further information please contact us by using the contact form below