Las Lomas de Sierra Blanca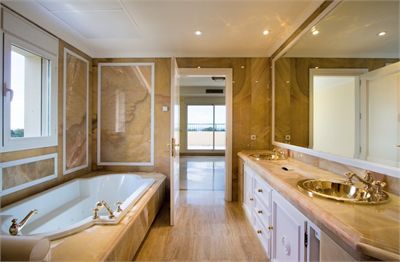 Located in the hills above Marbella you will find the wonderful development of Las Lomas de Sierra Blanca. Within its ground are to be found some of the Costa del Sol's most luxurious apartments but still providing their owners with access to many of this part of Spain's wonderful attractions.
When you come to view the properties that make up this particular development of Las Lomas de Sierra Blanca to the south you are offered stunning views of the Mediterranean Sea whereas to the north you are provided with amazing views of the La Concha mountain. Yet although the properties within the development are offered such amazing views of the area it lies in the heart of the town of Marbella.
As a result of the location of Las Lomas de Sierra Blanca you are only a short distance from all that you will need for a wonderful stay in an apartment here. From here you are of course only a short walk away from many wonderful restaurants and bars in Marbella including some truly spectacular ones that are situated along the towns promenade.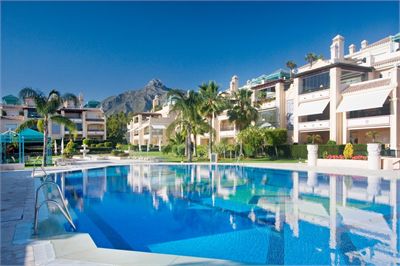 As you would expect no expense has been spared on the construction and finish of the development of Las Lomas de Sierra Blanca to ensure that luxury living accommodation is provided. Plus every one of the apartments provides you with plenty of living space both inside and out. So of course ensuring that throughout the year you can enjoy the wonderful climate and weather that this part of Spain has to offer.
The finishes are quite exceptional at Las Lomas de Sierra Blanca. Each one has either marble or travertine flooring laid throughout except for the kitchens and laundry rooms. Instead in these areas non slip stoneware floors have been laid. The terraces on these properties are suitable for all year use as rustic tiles have been laid to ensure that they can cope with every kind of weather.
To ensure that owners of these properties really do have a relaxing time the apartments have been finished to a very high standard. The kitchen is fully equipped with high quality appliances and the bathrooms have been fitted with good quality fixtures. In the master en-suite bedroom you will find a hydro massage bath and also a separate shower that is thermostatically controlled.
Click the button below to see all our properties in Las Lomas de Sierra Blanca.
For any further information please contact us by using the contact form below