Los Flamingos Golf
Situated just west of the resort of San Pedro de Alcazara on the Costa del Sol you will find Los Flamingos Golf. This particular development not only comprises 3 wonderful courses one of which was used for the 2003 Senior PGA Matchplay Championships, but also some beautiful properties as well.
The apartments within Los Flamingos have been constructed to a height of no more than3 storeys so ensuring that the views of the surrounding area are not marred. Also you will find that the number of apartments within each block of which there are few ensures that whilst staying in them privacy is maintained and also that it remains very tranquil. In fact there are few other developments on the Costa del Sol that can offer such to those who choose to spend time in them.
When it comes to the layout and design of this development a considerable amount of time and energy has gone into it. All the properties in this development have been placed on a low hill that faces south so plenty of sunshine is offer to them throughout the day. Plus the position is such that not only are the offered stunning views of the Los Flamingos Golf Courses but also of the Mediterranean Sea.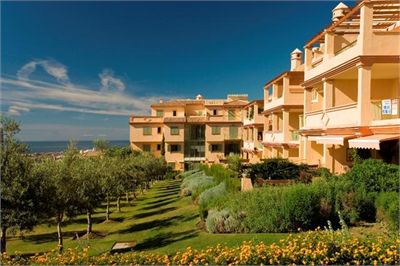 As you relax on your apartment terrace you can enjoy the beautifully landscaped gardens containing a number of water features. Plus if you are feeling a little warm especially during the summer months then why not take a swim in one of the two communal pools that are located close by.
Anyone who chooses to buy or rent a property within this development are provided with access to all of its courses. There is of course the 18 hole course that was used for the PGA Championship. However if you are someone who has only recently taken up this sport then you can try your luck on the 9 hole course instead. For those who aren't really into golf but still want to remain fit then you also have use of the tennis and paddle tennis courts as well as the Club House.
The apartments in Los Flamingos Golf have all been finished to a very high standard to ensure that you have a luxurious time whilst staying in them. Plus for anyone considering purchasing a property here they come with the necessary licences in place.
Click the button below to see all our properties in Los Flamingos Golf.
For any further information please contact us by using the contact form below