Los Granados de Cabopino

Looking to rent or own a property in a development that as yet still remains relatively unknown but is pretty well established. Then of course you need to think about considering looking at the one known as Los Granados de Cabopino. Although situated only a short walk from the port of Cabopino which is enjoyed by thousands of tourists each year, very few people know about all that this development has to offer.
This is a development that comes with a front line beach location and as a result you are offered direct plus secure access to it. The apartments including those on the ground floor within Los Granados de Cabopino have been designed to ensure that each and every one has uninterrupted views of the sea to the south. Also many of them are offered superb views of the coast toward Marbella and Fuengirola.
Although the location is what is now attracting a great many people to rent or purchase property within this development there are other things that they are finding extremely pleasant as well. This particular development has two large swimming pools situated outdoors along with children's pools located beside each of them. However, you are not limited only to swimming in the summer at this development as at the bottom of the beautifully landscaped gardens you will find another one this time indoors and heated.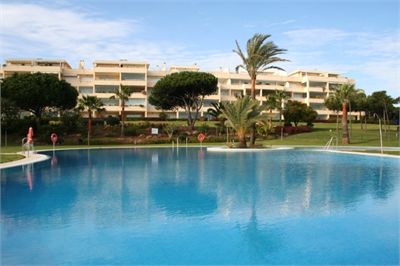 The other facilities that so many people find pleasant about Los Granados de Cabopino are its fully equipped gym, the 2 saunas along with tennis and paddle tennis courts that they can use. Also situated in its grounds is a summer house that has a large terrace that can be sat on during the warm balmy summer evenings. Plus it also suitable for using in the cooler months of autumn and winter as it contains a large open fire.
As with all developments on the Costa del Sol, Los Granados de Cabopino is no different to the others where safety of the residents are concerned. Around the whole development there is a high perimeter fence with a number of access points that only residents can use. As for the main entrance into the development is manned 24 hours a day 7 days a week, 365 days a year. As for parking there is plenty of space in the underground garages, but should you have guests visiting there are plenty of car parking spaces directly outside each block that can be used.
Click the button below to see all our properties in Los Granados de Cabopino.
For any further information please contact us by using the contact form below