Los Granados Golf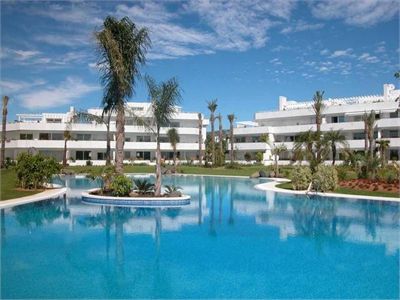 Situated in the very centre of Golf Valley, Costa del Sol is the development known as Los Granados Golf. This particular development is provided with some truly amazing views not only of the sea and mountains but also of one of the area's most spectacular and exclusive golf courses. From each apartment within the complex are offered views that look out over the Royal Las Brisas Golf Course fairways.
The blocks in which the apartments of Los Granados Golf can be found are arranged in an arc facing towards the south. This helps to ensure that not only do those staying in them get provided with un-spoilt views of the surrounding area but also are bathed in plenty of sunshine throughout the day. Within the blocks there is a total of 2, 3 and 4 bedroom apartments and penthouses all finished to a very high standard of specification.
The development of Los Granados Golf is part of the Los Granados Group which also built Los Granados del Mar, Los Granados Playa and comes with all the facilities you would expect from a first class developer. Included is 24 hour security, underground parking not only for cars but also golf buggies. Also a fully equipped gymnasium as well as a social club that has an open air heated swimming pool as well as an indoor pool. Plus for those who want to relax or unwind you will find a Jacuzzi, saunas and Turkish Bath. Of course there is also a large communal swimming pool that its residents can use.
When it comes to the apartments and penthouses within Los Granados Golf you will find these to be very spacious indeed, so making staying in them very comfortable and enjoyable. Plus they all come with terraces ensuring that you have plenty of space outside for entertaining friends and family throughout the year if you wish.
As well as being close to Royal Las Brisas Golf Course you are only a short distance away from the resort of Puerto Banus and its miles of golden sandy beaches. Plus this is the place to go if you are looking for great nightlife. Puerto Banus not only has a great selection of restaurants and bars one can visit especially dotted around the marina, but several good nightclubs as well.
Click the button below to see all our properties in Los Granados Golf.
For any further information please contact us by using the contact form below