Los Granados Playa

Situated between the town of Estepona and the resort of Puerto Banus that lie to the west of Marbella is the gated community of Los Granados Playa. This is a well established development and is provided with 24 hour security throughout the year including the front gate into it being manned.
Although there are plenty of facilities within the development of Los Granados Playa for you to enjoy including tennis and paddle courts there is a well equipped fitness centre also. Plus there are swimming pools that guests can use in the landscaped gardens. For those who have small children staying in their apartment in this development there is a well maintained playground that they can use. But it is recommended that an adult supervise them at all times when using this facility and the swimming pools.
But of course with Los Granados Playa its front line beach location many people may prefer to spend time on the beach instead. Although you can spend several hours soaking up the sun on it, why not take a stroll further along during the late afternoon or evening and visit one of the many beach bars (chiringuitos) that are located up from the tide line. Here you can try a wonderful array of local delicacies as well as local drinks.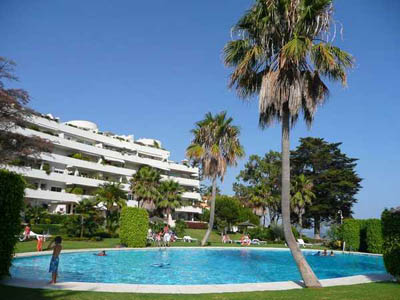 The accommodation at Los Granados Playa as you would come to expect is constructed and finished to a very high standard. These properties have been very tastefully decorated and incorporate a special system to control the way certain features function within the property. The Demotic system that is installed in Los Granados Playa apartments enables you to control the air conditioning, heating and awnings on the property all with the touch of a button. This system even comes with a feature that when a certain command is sent through to it will result in the mirrors after you have had a shower or bath to demist.
Although there is a perfectly good air conditioning heating system installed in these Los Granados Playa properties they all come with under floor heating as well. So providing a high level of comfort throughout the year and not just during the height of winter.
Click the button below to see all our properties in Los Granados Playa.
For any further information please contact us by using the contact form below