Magna Marbella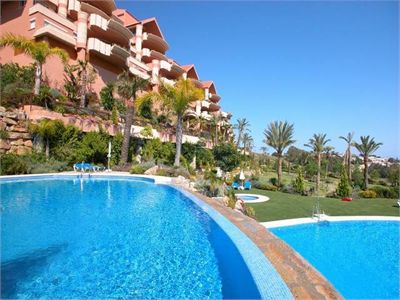 Situated just a few minutes drive from the resort of Puerto Banus and in an area of Marbella known as Nueva Andalucía you will find the beautiful development of Magna Marbella. This is one of the most important as well recognized of all developments to now be found in Marbella.
Within the grounds of well-landscaped and maintained gardens of Magna Marbella you will find a total of 244 luxury 2, 3 and 4 bedroom apartments and penthouses. As one would expect with such an exclusive development the finest quality materials have been used to construct and finish what are exceptionally unique properties.
The reason for Magna Marbella proving so popular with people looking to purchase a holiday home on the Costa de Sol is not down solely to the quality of apartments but also down to the fact that it is surrounded by 5 of the Costa del Sols major golf courses. So of course if you enjoy a round or two of golf then this makes the perfect location to stay.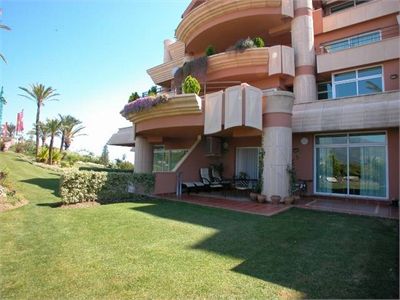 When it comes to the properties of Magna Marbella every single one has a top of the range hot and cold air conditioning installed. Plus the bathrooms have whirlpool baths installed. Also in every single one of the apartments and penthouses as safe has been fitted. But the difference with the penthouses and apartments is that on their sunroofs you will find that they have their own private pools. However residents of these properties can still use the other 3 outdoor swimming pools.
The location of these apartments is one that like some of the others to be found in Marbella offers superb views out across the Mediterranean Sea and the Strait of Gibraltar. Plus they are situated beneath the mountains so ensuring that the weather throughout the year remains pretty good. So even in the winter months there may be the possibility of a bit of sunbathing.
As you would expect the interiors of the apartments and penthouses within the development known as Magna Marbella have been finished to a high standard. Every single property within it has marble flooring throughout and under floor heating. Also they have fully kitchens and bathrooms in some cases with marble baths. To get from the garage underneath the properties there is a lift and every single property has been provided with a room to use for storage.
Click the button below to see all our properties in Magna Marbella.
For any further information please contact us by using the contact form below