Medina de Banus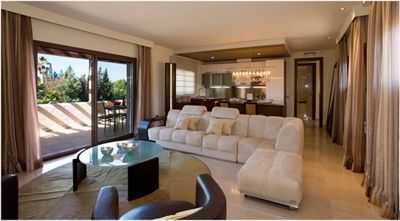 Situated in what is considered to be the best residential part of Nueva Andalucia you will find the community of La Medina de Banus. This is also situated in the very heart of "Golf Valley" as well as being only a short walk away from the marina of Puerto Banus.
The properties that are located in Medina de Banus have been designed in the style of a traditional old Mediterranean town, as you would find further inland. There are a total of 160 apartments in this development that are surrounded by extremely well cared for luxurious gardens full of Mediterranean plants. Plus also within the grounds there is a 600 metre square swimming pool that all those staying in the development can use.
Every single apartment within La Medina de Banus has been built to an extremely high standard and come fully equipped. The ground floor apartments come with the added luxury of having their own area of garden so providing its residents with the opportunity to really enjoy not only the sunshine but the Costa del Sol alfresco lifestyle.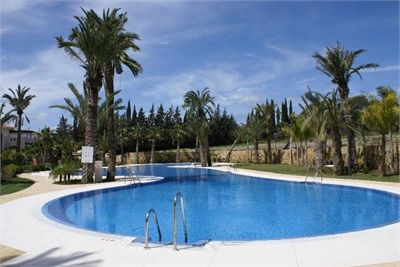 Inside the apartments you will find that Serpeggiante Nuvolatto marble has been used in the main areas of the property such as the hallway, living room and bedrooms. As for the kitchen this has polished earthenware tiles laid upon it, and in the bathroom floor tiles that are similar to the marble wall tiles have been laid.
As you would expect the kitchens in Medina de Banus have been finished to an extremely high standard. The kitchen cabinets at lower level have had a cherry wood veneer applied and the upper ones are a combination of acid glass and lacquer. As for the kitchens worktops these are made from stainless steel. Appliances installed in this kitchen are again of the highest quality and are made by Siemens.
When it comes to the bathrooms within this development these have only the best materials used to finish them. An additional feature of the master bedroom in the Medina de Banus properties that many of the owners of these enjoy is the Whirlpool bath and also the hydro massage column in the shower.
Click the button below to see all our properties in Medina de Banus.
For any further information please contact us by using the contact form below