Santa Maria Village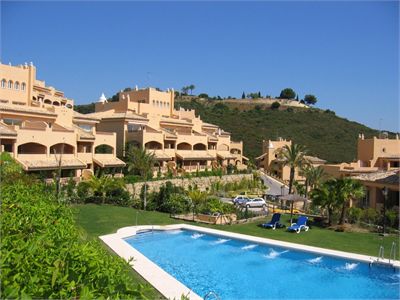 Located between the town of Marbella and the small port of Cabopino you will find a development made up of 231 apartments and penthouses called Santa Maria Village. This development has been built in a wonderful location offering people staying in the properties fantastic views of the sea and the mountains.
Although there are over 230 properties in the development of Santa Maria Village, to ensure that the best views are offered to all of its residents they have been built in low rise blocks. These comprise only four levels over which the apartments and penthouses have been laid. Also the majority of these properties have been provided with views that face to the south west and this helps to ensure that they are bathed in plenty of sunlight throughout the day.
The Santa Maria Village apartments have all been set into gardens that are beautifully landscaped and cared for ensuring that it is a wonderful place to stay. Plus to further ensure that your stay in any of the apartments or penthouses within this development is enjoyable there are 10 swimming pools that you can use. Every single one of these not only comes with toilets and showers but also changing rooms. Plus to ensure that your privacy and safety is maintained the company that constructed this development provide 24 hour security throughout the year.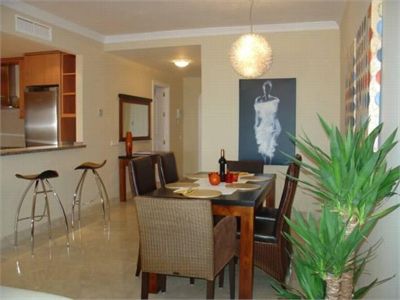 Although you may want to spend a great deal of your time enjoying all that your Santa Maria Village property you rent or own has to offer. You are actually only a short distance away from the stunning Santa Maria Golf Course where there is a wide selection of activities for you to enjoy. Not only is there a superb 18 hole golf course but also there is a driving range as well. Plus also within the grounds of this course there are tennis courts and a bowling lawn. Plus within the club house there is a snooker room and also a fully equipped fitness room and sauna.
You have a selection of 2, 3 and 4 bedroom properties within Santa Maria Village for you to enjoy. All of which have been finished to a very high standard. They all have fully fitted kitchens into which have been installed the latest appliances, plus the bathrooms have been fitted with high quality fixtures and fittings.
Click the button below to see all our properties in Santa Maria Village.
For any further information please contact us by using the contact form below